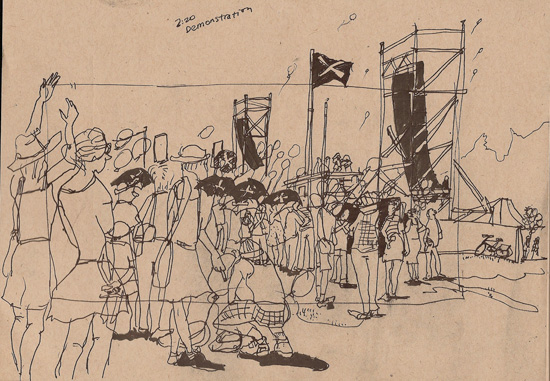 The Netherlands arts budget will be reduced from €800m to €600m in 2013. It may not sound much but there are hundreds of organizations shutting down due to this decision. Music group, theaters, film festivals, the list goes on… and NIAF, the animation residency organization we belong to is one of them as well. If you are interested in this topic, you can read an article from the wired here.
There was a march / demonstration in early July that we participated in Da Haag. Artists, supporters of arts, many concern citizens joined for the demonstration.
This summer has been quite cold and rainy but this day, it was the sunniest ( and hottest for sure) day ever. The heat was rising and the tension was high.
In the first week of our stay, Paul Driessen and Maya Yonesho were in the office. We are having Igor Kovalyov giving workshop in August. In the past, Andreas Hykade, Konstantin Bronzit, Piet Kroon (Blue Sky) , Michael Dudok De Wit, Wendy Tilby / Amanda Forbis and so many other famous animators have given workshops at NIAF.
For animators, these are all HUGE names. There is a library filled with animation books & DVDs. There is equipment, resources, support and everything I could have ever imagined in this organization.
It's sad that such a wonderful, unique, and encouraging organization like NIAF to discontinue its support for the animated films.
On a personal note, we are not sure if we will be able to finish our term of 2 years. Hopefully we can but even if our stay is shortened, I still consider ourselves lucky.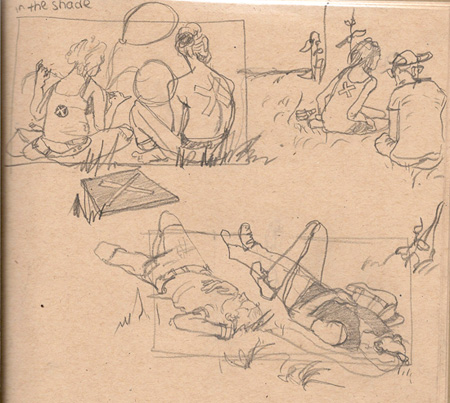 Some of us had to hide in the shade for a few minutes of rest… Despite of the reasons to be there, I quite enjoyed being surrounded by passionate artists & art lovers.