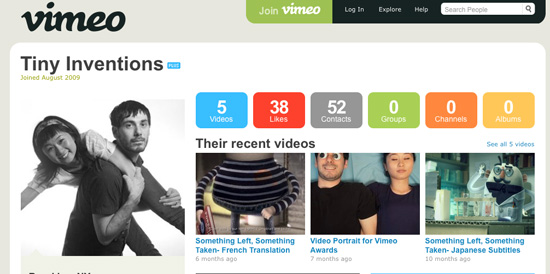 As I renewed our Vimeo Plus account this morning, I was reminded that it has been exactly a year since we released "Something Left, Something Taken" online. Traditionally, filmmakers have waited for a two-year festival cycle to end before putting their work online. Over the past year, we have received many questions about our decision not to wait.
Here are some of our thoughts.
-Time and Place
We made our movie for a specific time in the world and in our own life. It felt natural to put it in front of a broader audience while it was still fresh for us. We knew the movie itself wouldn't make much money, so we decided to quantify its value by how many people were able to see it.
-Money
I read a comment on a popular film blog a while back that asked how filmmakers could afford to give their work away for free. Ru and I always felt the exact opposite. How could we afford not to put our work online? For us it was simple. We reasoned that the sale of our animation could not possibly generate enough money to sustain our life in New York. By putting our work in a place that people could see it, we actually ended up making far more money from opportunities created from the online presence than we had in previous years.
This approach did not completely undermine distribution of the short. We are currently working with a short distributor who has sold the rights to the short in several countries despite the fact that it can be viewed for free online.
Texas-based artist Austin Kleon wrote about what he called "the secret" on his blog— Do good work, then put it where people can see it.
-Instant feedback
There is something terrifying and wonderful about being able to monitor the response to your work as quickly as we can these days. The truth is, people want to watch good work regardless of the technique,form or content. Work that resonates with an audience circulates quickly. Posting your work on the internet is the simplest way to find if what you are doing is connecting with an audience.
-Surprises
Some of the most exciting things that have happened in the past year were complete surprises. We've tried to be as open to new opportunities and, as a loose rule, we decided to say "yes" to most requests that have come our way.
-As a result, we have been invited to hold workshops at seven different schools in the country.
-Our film has been completely remixed and re-dubbed by some incredibly talented Argentinian students.
-A lovely French woman helped create subtitles so that she could share the film with her friends
-Our sound designer randomly saw our short playing on Virgin America airlines during a cross-continental flight.
-A Brazilian teacher is using our movie to help teach English to his students
-A Swedish school asked us to help rework their motiongraphics curriculum  (unfortunately we were unable to fit this one in our schedule)
The unexpected avenues are part of what has made this whole process so much fun!
-Art and the artist
One of the unique things about releasing work online is the relationship between the artist and the art. Identity and context has never been so important to an audience when evaluating work as it is when viewed online. Posting our work online and documenting our process has given us an opportunity to engage directly with the people who watched our film. We are delighted that other artists have sent emails asking us questions or sent links to works that were inspired by one of the techniques that we documented.
-Festivals
After putting our short film on Vimeo, we were automatically ineligible for a Academy nomination (even though we have won an Academy qualifying award). We have also been disqualified from several big festivals that wanted to show our work . We didn't think about this much because we honestly didn't know how our work would do in the festival world. As disappointing as that may seem, we still have had the opportunity to show our work at a lot of incredible festivals including Sundance, Annecy, Ottawa, Clermont-Ferrand. We are also incredibly proud to have been nominated as finalist at the first Vimeo Awards Festival. I have to believe that in the upcoming years, more and more festivals will adopt flexible policies for the online presence of short films.
Final thoughts. After reading that, it might come as a surprise that we will not be releasing our next short online. The project that we are currently working on will be co-produced by the Netherlands Institute of Animated Film and we are contractually obligated to keep the film offline. There is no doubt that putting your work online can lead to some wonderful opportunities, but after all, this really is one big experiment. We are interested to see how our next work is affected by having a more traditional festival run and we'll let you know in a couple of years!
EDIT- For those who want to read more on the subject, Andrew Allen wrote a terrific case study here.