I finally tackled the biggest set in "Something Left, Something Taken"!
It is an airport scene with exterior and interior. HUGE HUGE HUGE!
Also it's more functional constructing than crafting that I am used to. So I had to warm the ideas up for a few months before committing myself to something enormous.
Our great friend Will Krause came over to help me get started. He dug into my trash box (aka crafting box) and decided to build me airport seats, luggage carts and a vent system to hang inside the airport.
Of course he gave me some great advises for the whole construction that I could not figure out.
Crafting master he is, pure genius.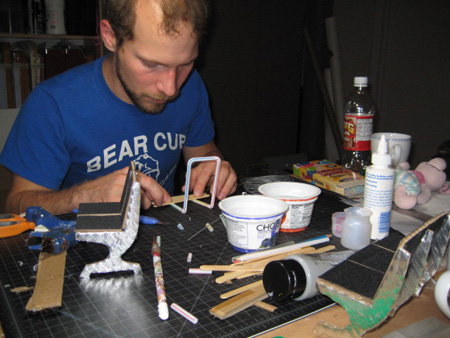 Although we use very similar materials, our approach is very different.
While Will uses his furniture design background and construct functional parts, I tend to emphasize decoration.
Will's crafts are very sturdy and if I can scale it up to real size, it will actually work.
My craft will most likely fall apart and can only exist in miniature world.
Will also taught me about some materials that I usually don't use. It was as if I took a class for the day, taught by the craft master Will.
My mom and grandma quickly became a huge fan of Will. (I showed them what Will crafted via video chat)
With all the parts ready to go, I finally put all of them together a few days ago.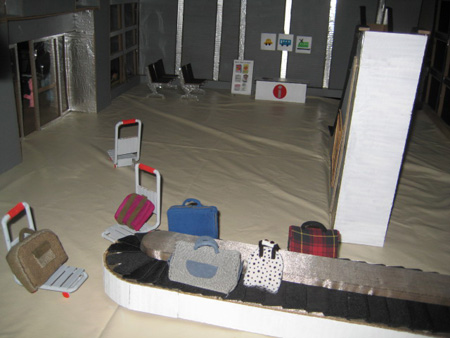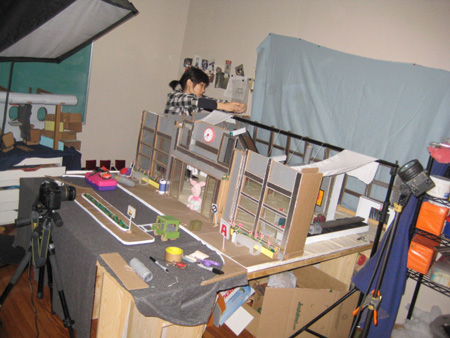 I will post the detail version of the airport next week, stay tuned.