ANIBAR animation festival in Peja, Kosovo, invited us to lead a 2 day workshop and give an artist presentation.
To be honest, I didn't know much about Kosovo. I remember all the horrible news from the late 90s, but I didn't know much. First, we had to look it up the map then googled Kosovo history. The war ended only 15 years ago- that's so recent! How does a country (republic) that was destroyed so badly, recover in such a short time?
A car ride from Skopje, Macedonia into Peja, Kosovo explained that really well. Some areas had lots of grave stones, some areas were under construction and yet in other places, it felt like a thriving city. Apparently 75% of the population is under 25 years old. That means anyone around my age and above had fought in the war. This is something too difficult for me to imagine.
Geographically, Kosovo isn't THAT far away. (My usual travel is from US to Japan is 14hours so anything within is not THAT far away.) But it's difficult to get there, so we had many connecting flights.
A car ride from Baltimore —-> Washington D.C
A flight from Washington D.C —-> New York (JFK airport)
A flight from New York —-> Viena, Austria
A flight from Viena, Austria —-> Skopje, Macedonia
A car ride from Skopje, Macedonia —-> Peja, Kosovo
The two organizers of the festival are very young. Rron and Vullnet started the festival when they were 17-18 years old. Now it's their 5th edition. Remembering how I was at 17 year old, I can only be impressed by their "go-get-it" attitude.
Albanians are warm and welcoming. With their open arms, we quickly felt comfortable with the Anibar family and all the guests. Trips to a local monastery, a hike to the mountains and dinners that festival organized helped us become very friendly to each other.
Visit to a Serbian Orthodox Monastery.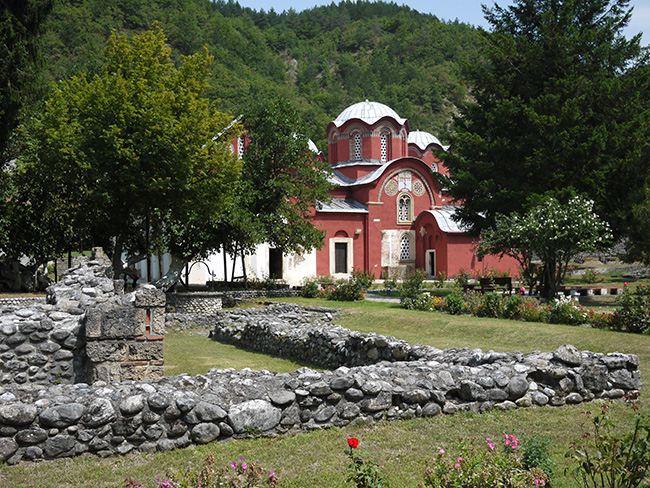 Monastery of the Patriarchate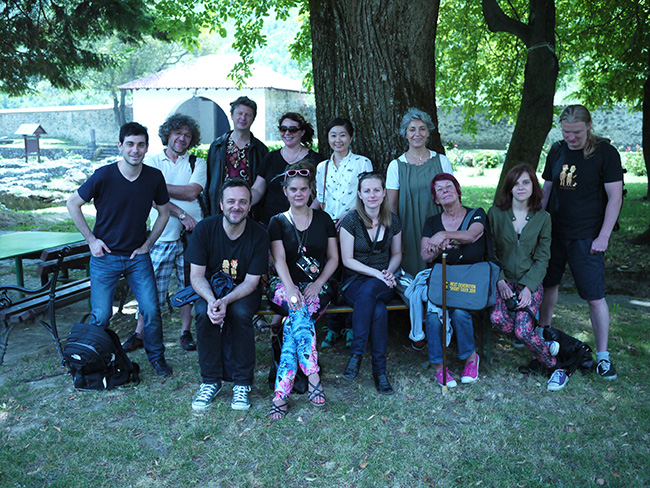 Some of the guests.
Max, Jani Zhonda (Greece / Albania) , Yann Jouette (France), Izabela Plucinska , me, Jani's lovely wife.
Igor Prassel from Animateka (Slovenia), Eva Pavlovicova from Fest Anca (Slovakia), Ana Nedeljkovic (Slovenia), Nancy Phelps (USA/Belgium), Olga Bobrowska Michal Bobrowski from StopTrick Festival (Poland).
Visit to the Mountains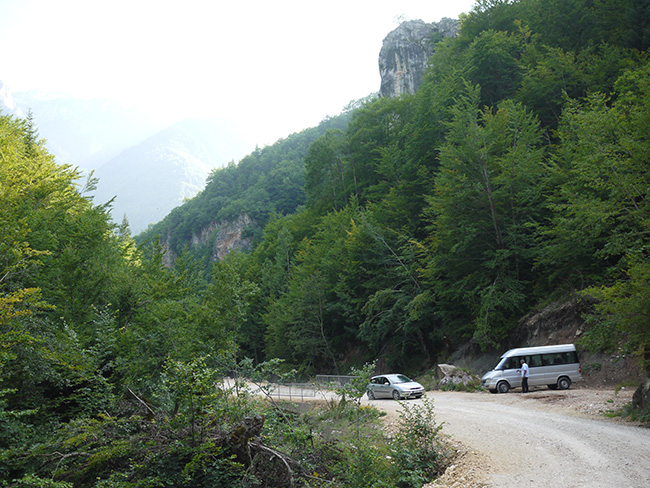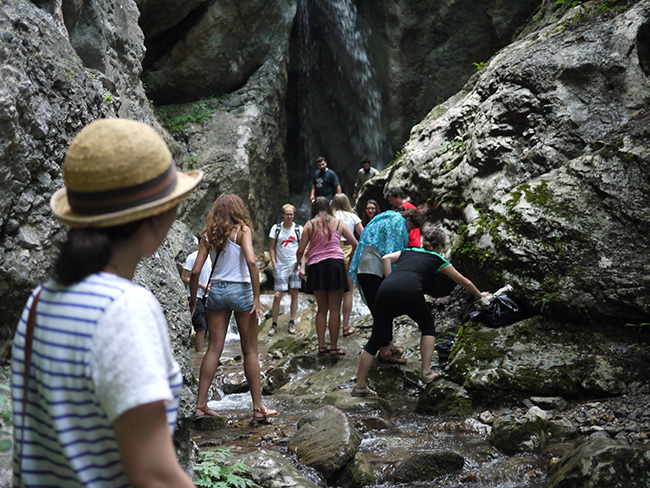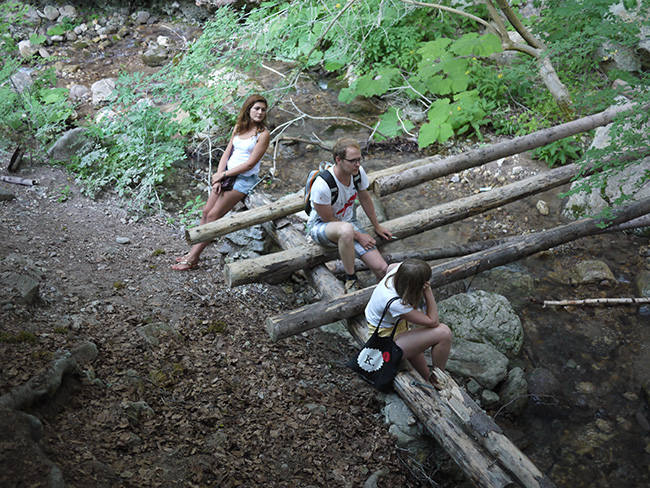 Martinus & Julia from Estonia enjoying the warm weather.
Visit to the Market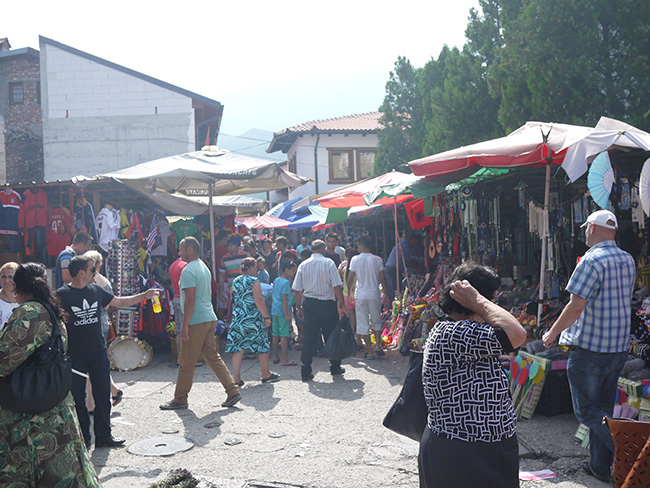 Albanians LOVE weddings. The hotel we were staying at, hosted at least 2 weddings every night. Even in the open-air market, we saw a lot of traditional and modern wedding dresses.
Some were traditional with modern touch, like this one.

Ok, let's zoom in.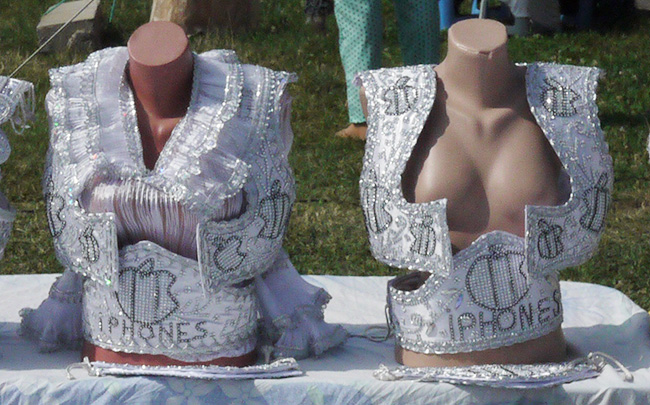 WORKSHOP
The festival had an open call a few weeks before the workshop. We had good amount of people interested in the workshop but sadly we had to shrink it down to 15 people. In 2 days, groups of 3-4 participants developed trailer ideas for the 6th edition of Anibar. There's no animation school in Kosovo so the participants who had experiences in animation were self-taught. There was so much we wanted to cover, but 6 hours is not a lot of time.
We started with some ice-breaker games.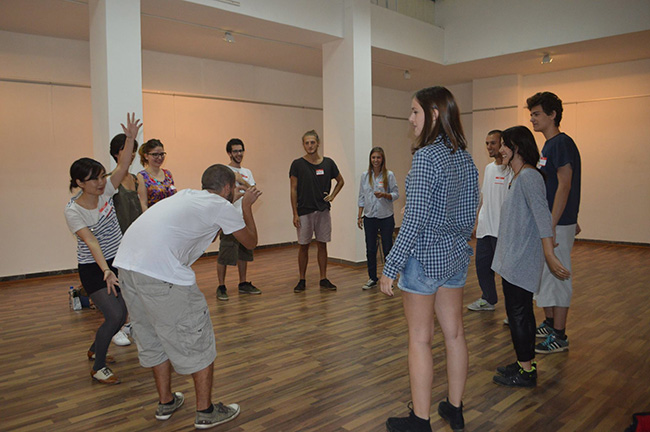 photo by Shqipe
We acted using archetypes and then did some improv to get into characters, consider clarity / silhouette and think about story-telling.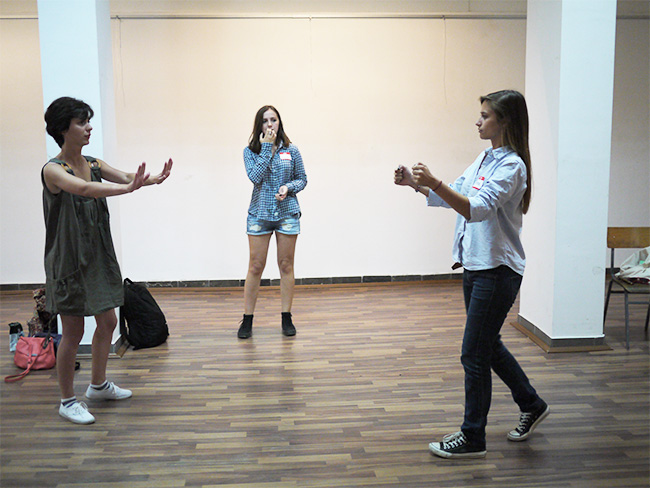 After some physical exercises, we showed some sample festival trailers and started working!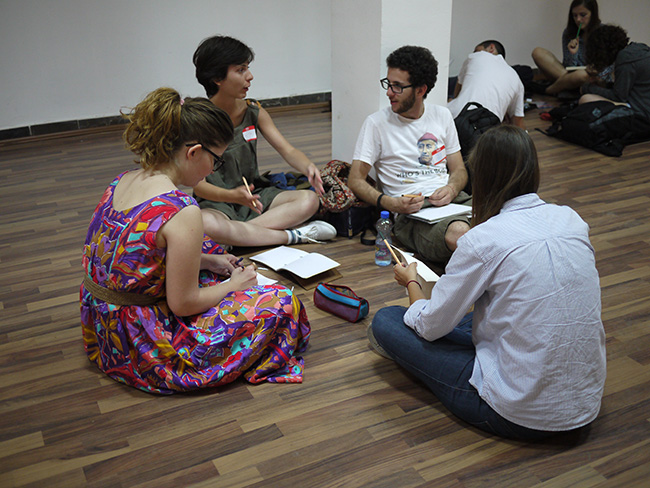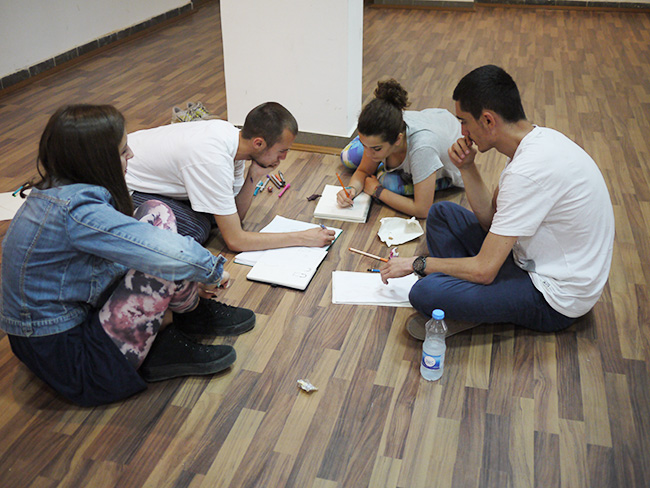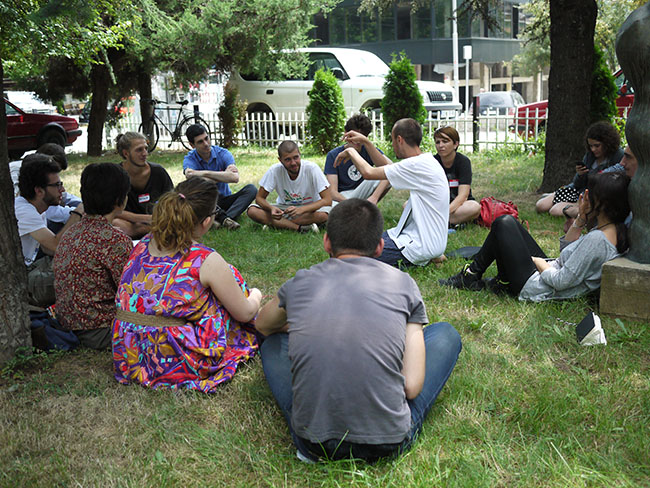 A review half way through the workshop.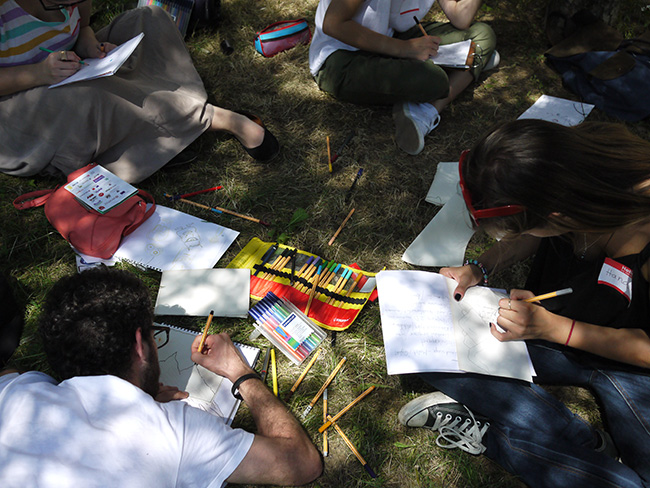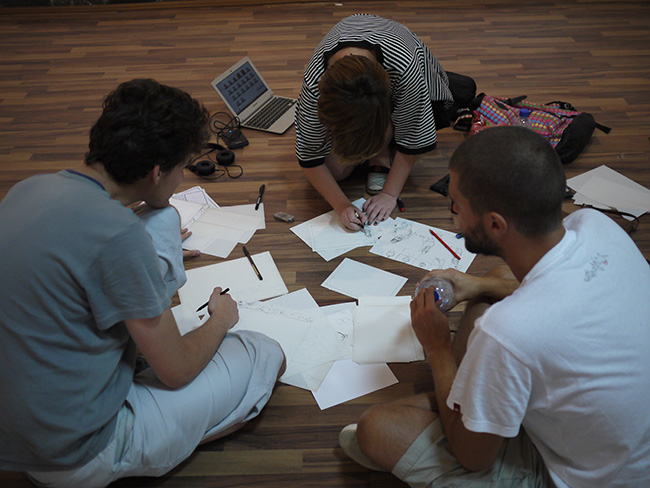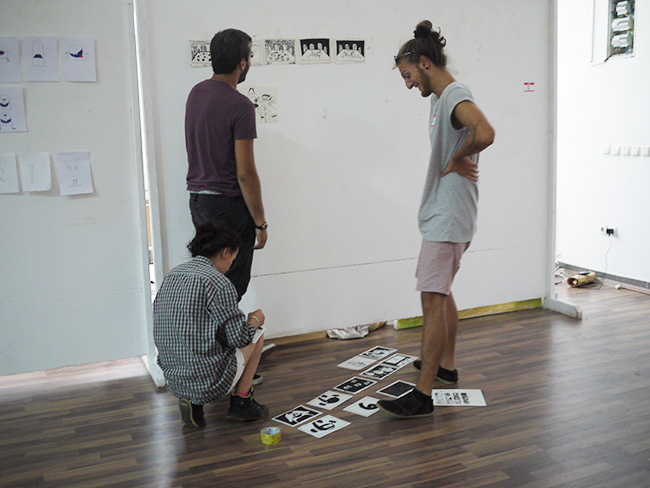 Participants worked until the last minute.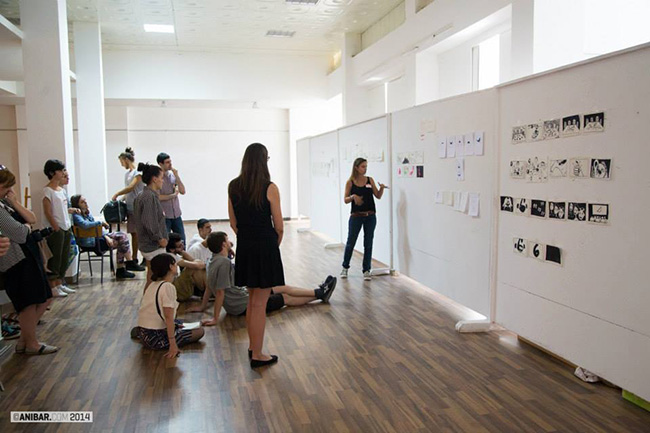 photo by Anibar
We had the festival organizers join the presentation. They were happy with all of them. We're hoping we can do another workshop to produce the trailer for Anibar 6th.
Here's my favorite drawing. One of the participants, Nol, explained to me about borders around Kosovo. We draw a map of Yugoslavia then drew what Serbia wanted, Albania wanted, Greece wanted. Then what the actual border became today.
I think it explains a lot about this area.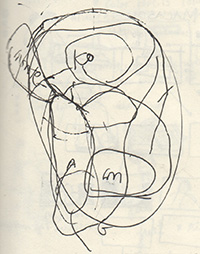 Our return trip was exactly 49 hours long.
A car ride from Peja, Kosovo —->Skopje, Macedonia
A flight Skopje, Macedonia —-> Ljubljana, Slovenia (12 hours layover so we explored the city, thanks to Igor!)
A flight from Ljubljana, Slovenia —-> Munich, Germany (14 hours layover so we slept in a hotel)
A flight from Munich, Germany —-> Washington D.C
A car ride in rush hour from Washington D.C to Baltimore
Phew….
Thank you Anibar! We had a great time!
I highly recommend all animation filmmakers to submit your films and visit.
Slovenia blog post & Comic coming soon