I spent the second half of February attending a master class at the Animation Workshop in Viborg, Denmark. 5 Brazilians, 5 Europeans and 5 Japanese directors, designers and producers were selected to create marketable concepts for 2 weeks. Along the way, we had artistic workshops, lectures and guidance from the industry experts, and of course, lots of fun events.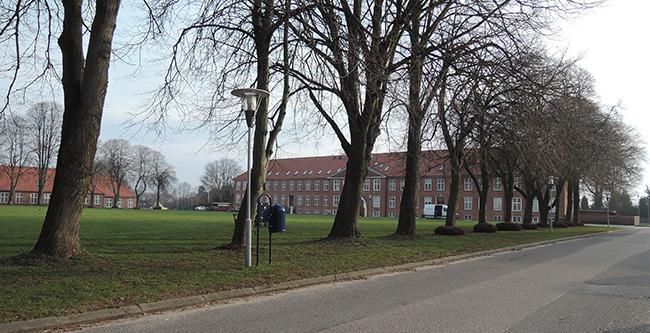 photo by: Amica Kubo
We all arrived not knowing what it would be like, with different expectations and goals. Some thought it would be a business course, some thought it would be an artistic course, some thought it was for networking. At the end, I can say that all of the elements were packed into 2 weeks.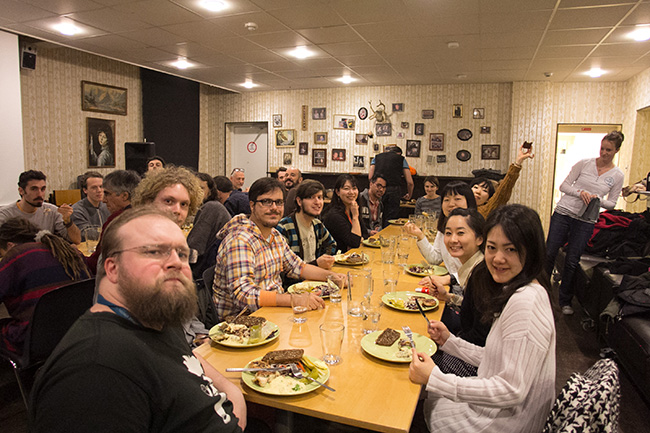 Photo by: Aguri Miyazaki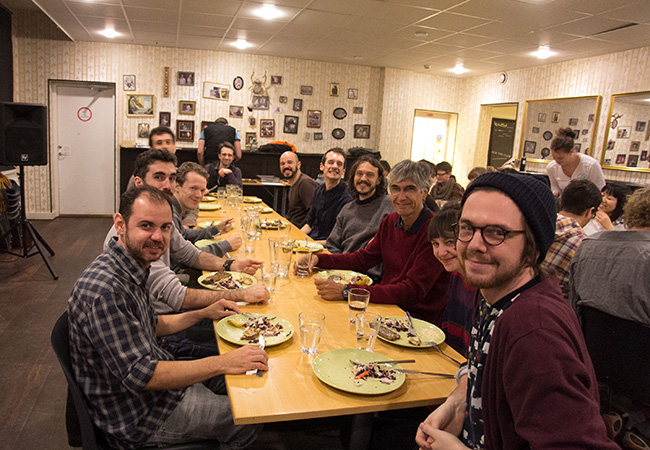 photo by: Aguri Miyazaki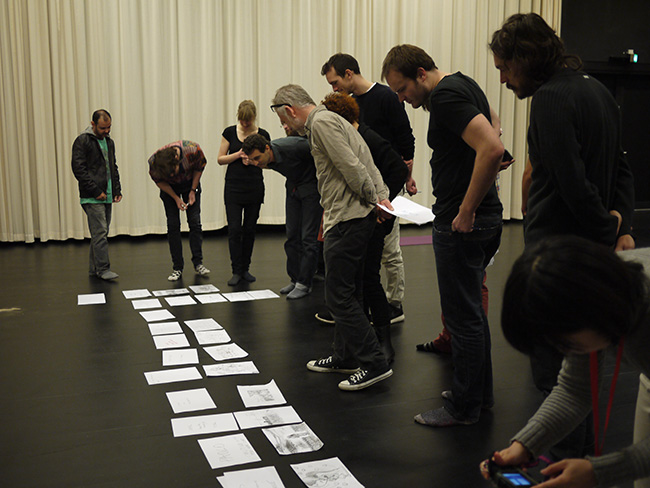 Reflecting back, it's difficult to summarize everything, but to me, it was divided into 3 parts: experimental workshops, industry lectures and group work.
EXPERIMENTAL WORKSHOP
Sara Topsøe-Jensen (Theater Director) held a few sessions about sensory and memories. A lot of them were conducted with blindfolds. As a visual artist, I rely on my sight most of all, so when that was stripped away, I started to experience the world on another level. Smell, touch, texture, sound, energy, and emotion… Common things became new and mysterious.
Sara paired us up randomly and we had to study each other's hands. When was the last time I touched somebody with so much care and curiosity without any sexual intention? What an interesting way to feel the energy and personality through touching, without the usual conversation.
"Hi, my name is ——-"
"What do you do?"
"Where are you from?"
"Do you like rabbits?"
None of this was necessary.

We also experienced touching various objects blind folded in both indoor and outdoor with the guidance of my partner. It was frightening yet with full of excitement like a little kid experiencing the world for the first time.



For some strange reasons, when the blindfold was taken off, it was a bit too embarrassing. As if my consciousness came back…did I share too much? Was I too vulnerable? Ah, too much!
Another exercise was with smell. We were blindfolded again and my partner had to bring various smells which triggered memories.

I truly enjoyed the 2 days of experimental work. It's something that will resonate within me for a very long time. There was an additional session later at night in middle of the week. Sara spoke about coincidence and energy, then all 15 of us drew together on a big paper on the floor as ONE being.


What happened was interesting and quite emotional. It felt like watching an evolution of civilization. We all started drawing in front of us with various mark-makings. Then it slowly expanded and connected with other sections. It kept growing and growing that it was so beautiful how we were all contributing our designs and enjoying the company.
Then… the destruction started. Drawings started to get covered with aggression until it was blackened and ripped, pencils were tossed and the energy evaporated elsewhere.
What a symbol of human nature. What a thing to witness.
LECTURES
We had very talented and established lecturers came from all over the world. Lessons were about how to come up with ideas, how to create stories, what to consider for design, various marketing strategies in different countries, etc.
Barbara Slade (writer / creator) introduced us to 5 minutes writing exercises that I enjoyed quite a lot. Within that 5 minutes you try to write 20 things that pop up in your mind. Then you spend another 5 minutes writing about a specific moment in your life. (Ex: when you first fell in love)
When I'm so involved in production, I forget to develop new ideas that this kind of exercise is very useful to constantly stay creative and sharp with observations!
We also had night lectures about Brazilian market, Japanese market, European market, etc. Lots of info and lots to take in. I need to take the time to go over the notes sometime soon.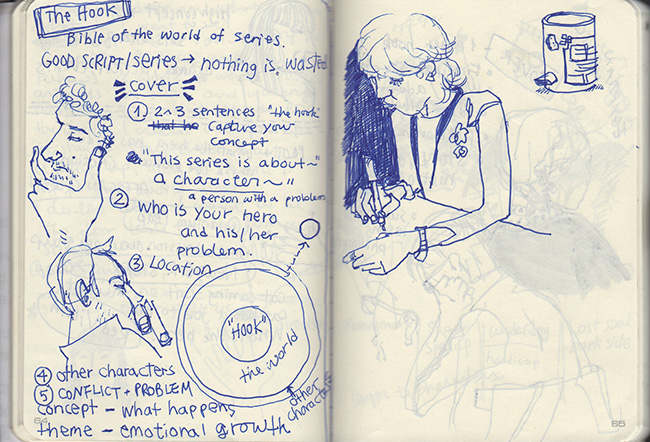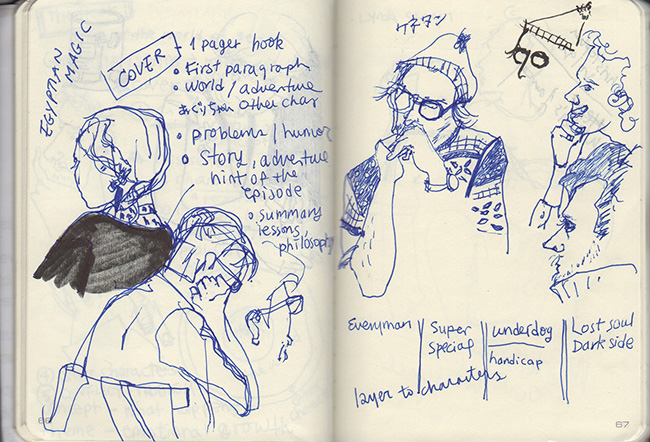 Excerpts of my notebook / sketchbook.
In middle of taking notes, I also had to keep up with my drawing exercises
Group Work
There were 5 groups in total, each group contained 1 Japanese, 1 European, and 1 Brazilian. Each group had its own dynamic and issues but our group fought a lot from the very beginning.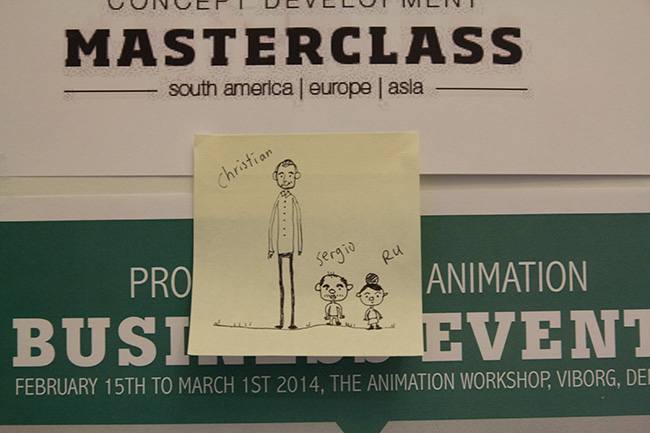 We had to create a presentation of a concept for a TV show, film, game, or any content in 10 days. It reminded me of an advertisement pitch. Without thinking about how to execute the production or figuring out long term goals, you have to create something appealing, marketable and interesting. If there were any issues, deal with it when you get the job… that was my attitude.
However the interesting part of this collaboration is that everybody comes from different cultural background, work ethics and visions. We needed to discuss A LOT in order to move forward each step. On top of the artistic differences, we had language issues as well. It required patience, energy and focus.

Christian calming things down.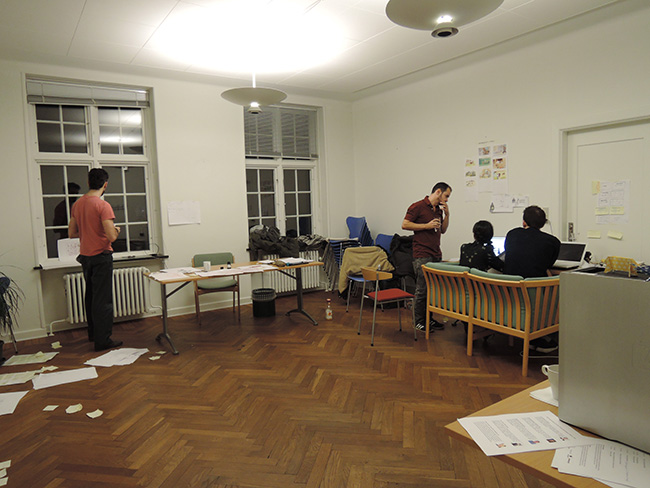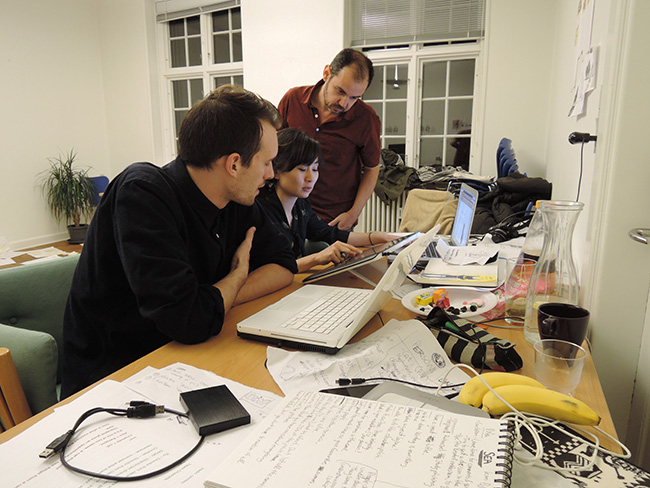 Photo by: Amica Kubo
Working until late at night, trying to wrap up with the presentation materials.

Photo by: Amica Kubo
I can't say that I'm satisfied with the project / presentation at the end. The project was still too early in the stage and needed more time to form a strong point of view. It felt a bit scattered and unresolved. I felt like it was a failed project but now I think of it, I should conclude it as "Productive Failure" and hopefully use that as a stepping stone for the next. Working with each one of them in the group was a great learning experience.
FRIENDSHIP
Yes, I learned a lot, I tried new things, but what I remember the most is all the nice small moments I shared with everybody. We're now scattered all over the world but the energy and friendship created there was so special.

Thank you Ms. Ito for choosing me as one of the Japanese participants. Thank you Morten for your vision of TAW and making this workshop happen. Thank you Vinni & Elena for taking care of us. What an experience!
Link:
SEA master class 2014