Thank you CutOut Festival for inviting us to Queretaro, Mexico. The people were so welcoming there and the energy was fantastic. It's a promising festival and I can guarantee that whomever has the chance to go, GO! You'll have the best festival experience for sure.
The journey from Baltimore to Queretaro was a bit rough since we had to wake up at 4:30 am and we arrived at the festival at 9pm. But the exhaustion went away immediately when we saw our old friends welcoming us. I love that film festivals are becoming reunions for us. As long as we all keep making films, we'll always bump into each other at a random country.
WORK SHOP
We were asked to give a 3 days mixed media workshop during the festival. We used a class room from Tecnológico de Monterrey, a very beautiful and large university in Queretaro.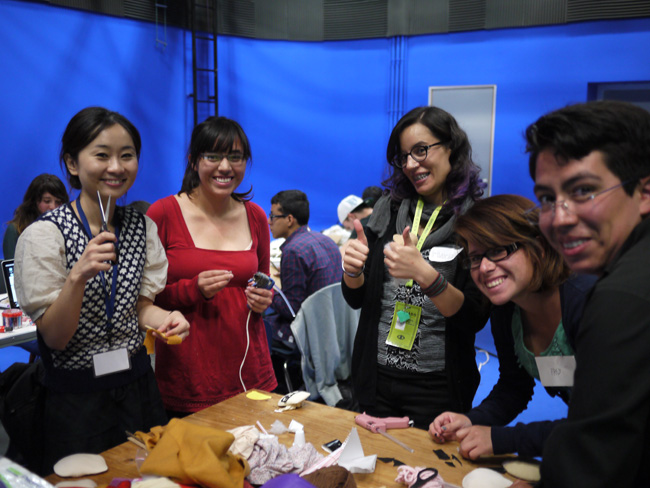 It started as 18 participants but each day, somebody brought his/her friend and I think it was eventually about 23 students or so. Day 01 was all about designing characters and creating puppets. There is nothing better than intense faces with the smell of glue gun!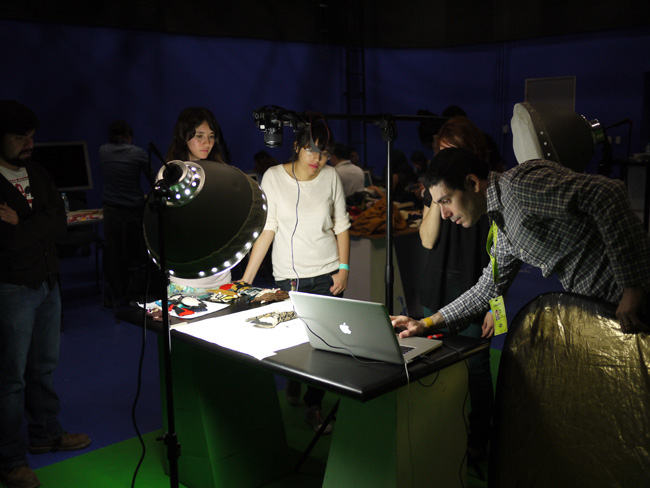 Day 02- Max discussing about lighting, dragon frame, etc. All the puppets were photographed and digitized in photoshop.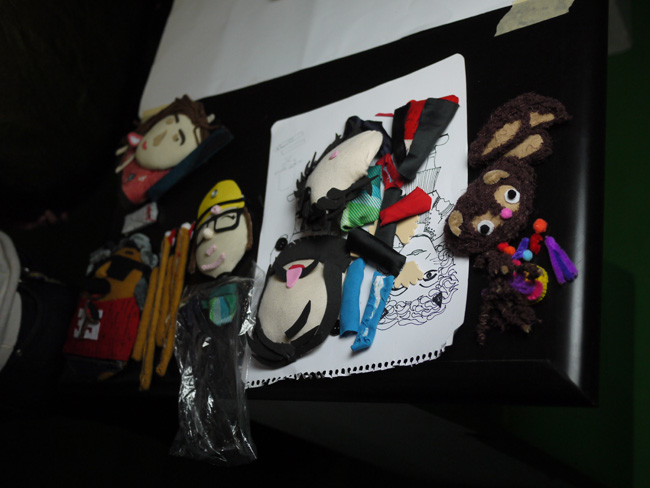 These are some of the puppets waiting to be photographed. Aren't they so fun?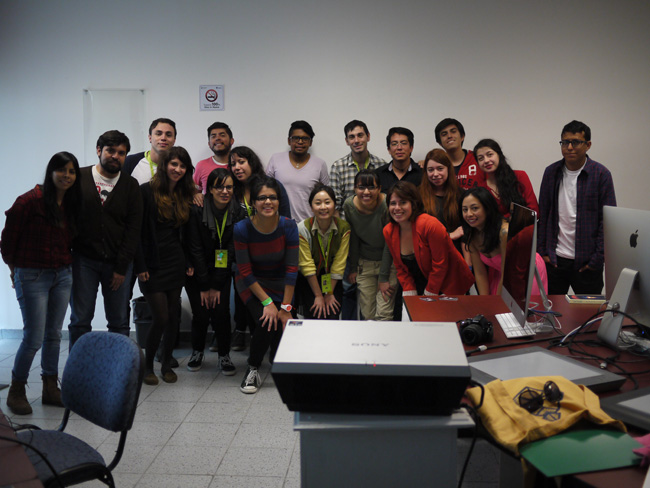 Group shot!
Unfortunately we didn't get to animate or composite. If you're one of the participants reading this, will you please animate your puppet and show it to us? We'd love to see them come alive…! I wish the workshop was 5 days. 3 days went by too quick. We barely finished riging on day 03. But what a way to connect with Mexican animators and create something together.
Big thanks to Paco, our assistant. The key to running a nice class is to have a wonderful TA who does everything a step ahead of you.
Conference, Artist Talk
Courtesy of Cutout, here are some photos of us.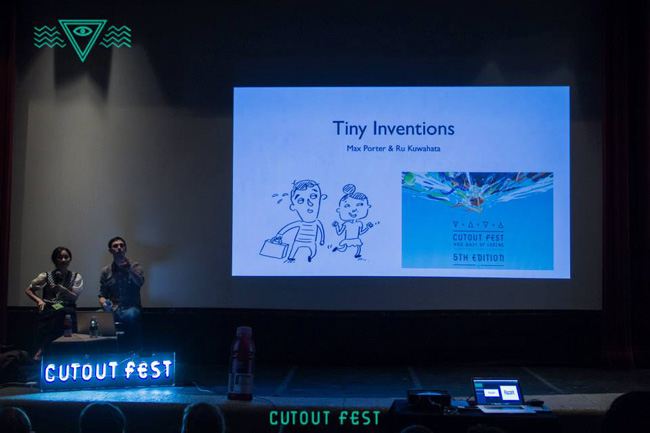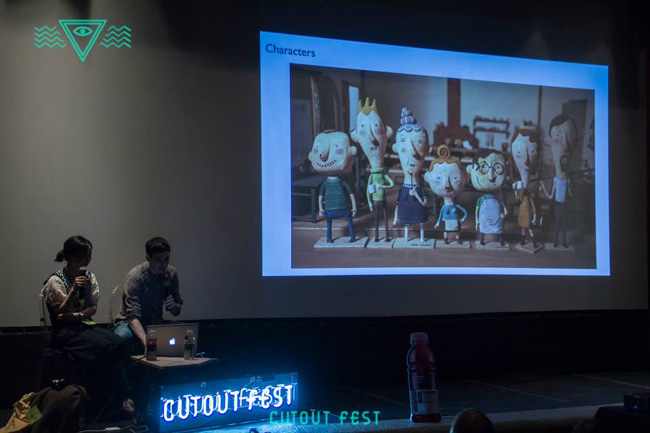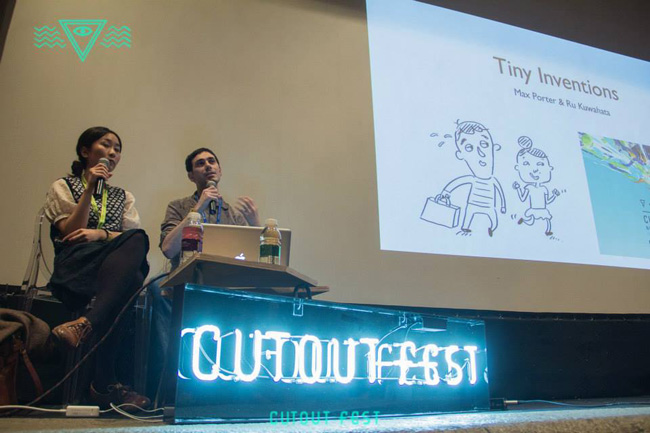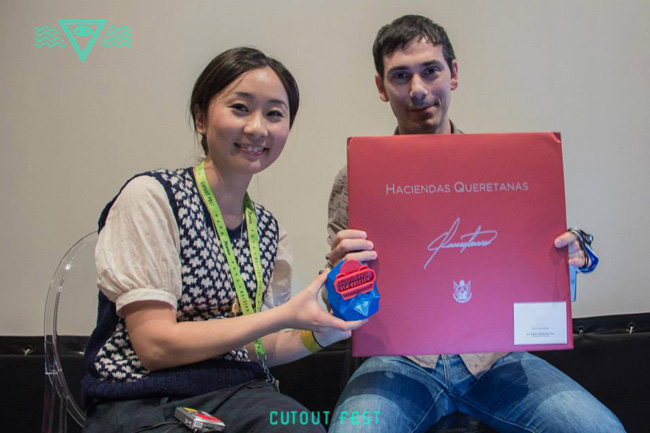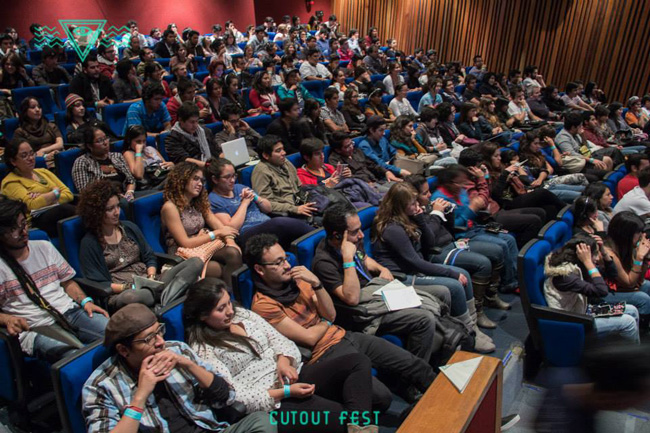 Look at the crowd! We were so happy that the auditorium was packed. The audience was energetic, expressive, warm and supportive.
Often we made a lecture on "How to", going over our production process. But this time we felt strongly that we needed to discuss on "Why" instead of "How". It's not easy to share such emotional ups-and-downs we go through with our work and I was not sure how the audience would react to our presentation. I must say I enjoyed it very much….*smile*
Party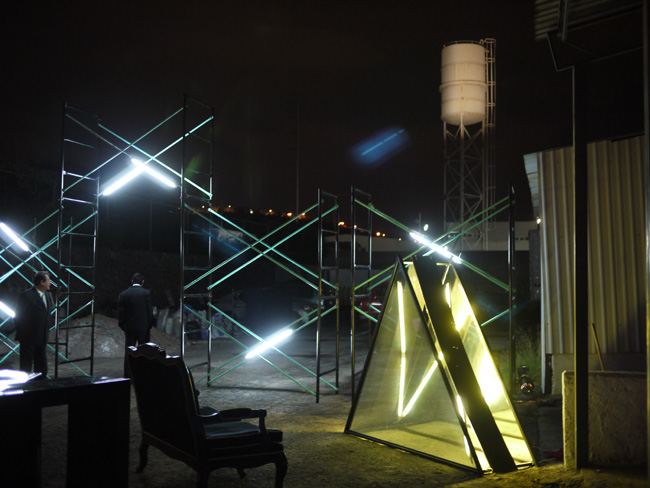 A very cool party, "Lost Highway", was organized at an old factory. We sort of got lost in the van on the way and ended up in a deserted abandoned factory. Everybody was scared of course imagining the worst. (Max probably has the wildest imagination when it comes to situation like this. *referencing "Something Left, Something Taken")
It was fun to talk with old friends and make new friends. It was too much fun chatting up that there is no picture of our friends. Well, let's say that the fun is embedded in my memory.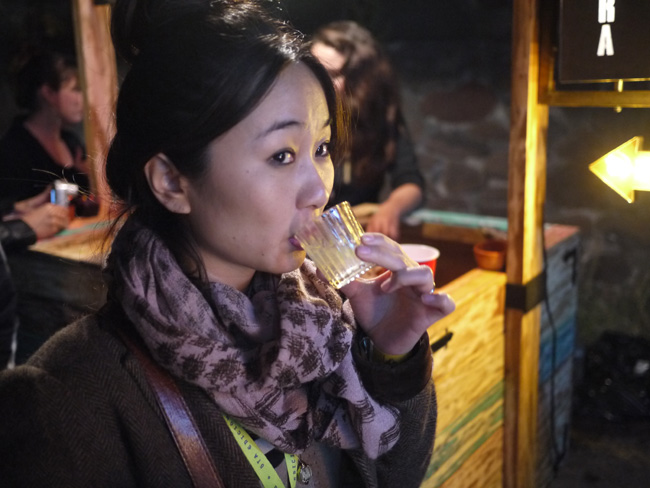 I must say, after two small glasses of Mezcal, I reached my limit.
Press Conference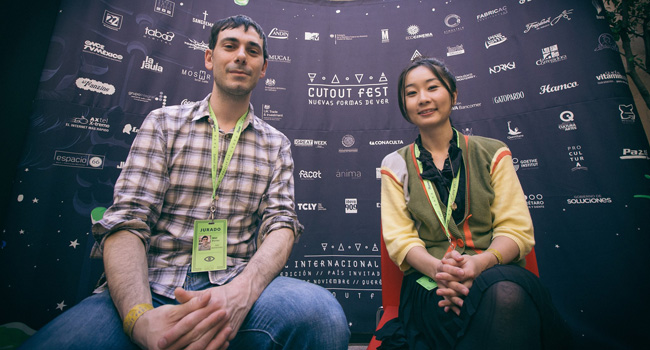 During the whole festival, everyone kept saying "Mexican time" which means that it will be late about 15min-2 hours. We were late for the conference but I didn't rush thinking this is also "Mexican time". I got there 15 minutes late and 2 staff members from the festival was looking for us. I guess "Mexican time" does not work for us…
Since the day one, a lot of people came up to us for our autographs and pictures. It was strange. Nobody ever asked for my autograph, ever. They made me feel like a celebrity but I was slightly confused because we are nerdy animators after all. But again, I had an autograph of a not-so-famous comic artist that I kept preciously for years. It was nicely put into a plastic case to be admired. Somehow I felt like it was a window leading me into the wonderful world of artist.
@ 6:00 pm on the last day
We wanted to go see our friend, Mikey Please 's talk. He's a genius filmmaker and I had a list of questions to ask him. The press conference lasted a bit longer and when I looked at my watch, the artist talk had already started.
This is what happened…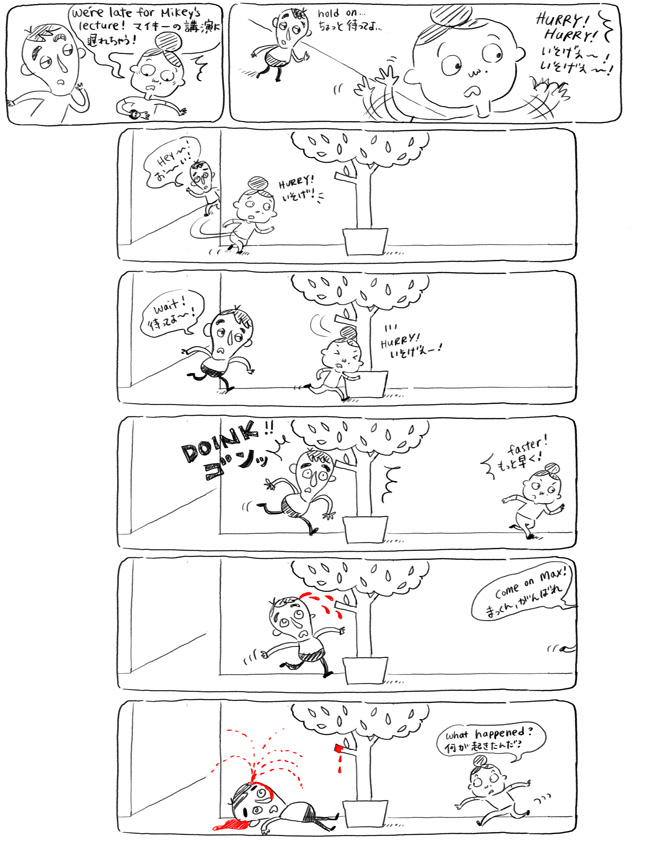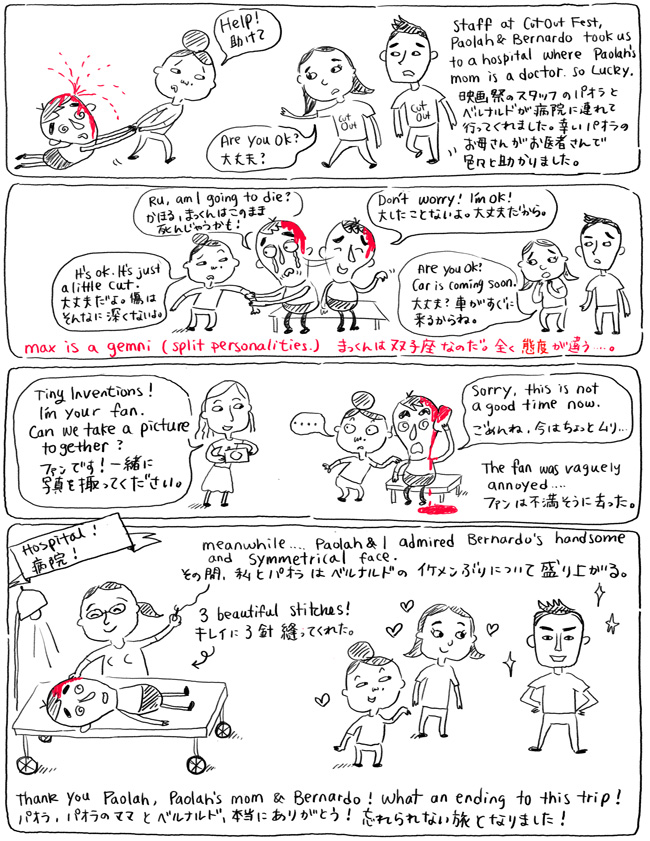 So yes, we missed Mikey's artist talk but instead experienced Mexican hospital. Mikey, this is why we weren't there!!!
Do you want to see the tree that gave 3 stitches to Max?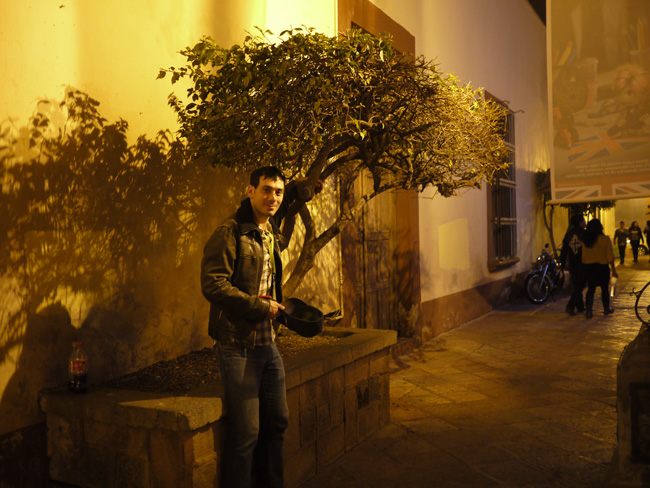 Lastly, thank you to CutOut Fest and congratulations for another successful year.
Thank you for having us and please bring us back again because we fell in love with Queretaro and the warm people whom welcomed us.