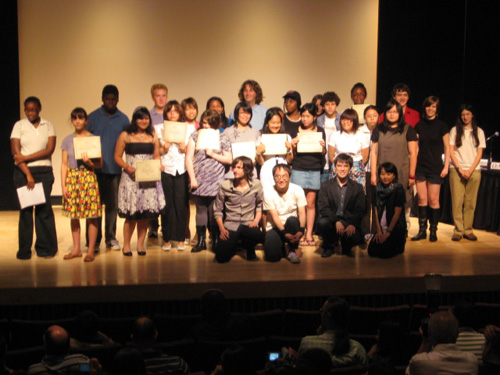 I had the pleasure to co-teach A*NI*ME workshop at Japan Societylast week.
A very famous anime script writer Dai Sato was invited from Japan!
Because I was not done teaching at Parsons Summer Academy on the first week of the anime workshop, I missed all the interesting lectures Dai gave to students. But I joined the team on the 2nd week and got to know Dai Sato. I truly love his spirit, energy and knowledge of books and animations! He educated me so much about the animation industry in Japan.
Ryan Morris, Dai's interpreter, amazed me every day with how fast and accurate his translation was.
Aaron Hughes was my co-teacher. His film, "Backwords" is circulating in film festivals. Very clever film, it's definitely worth checking it out!
Also thank you Rob, Kazuko, Ariana and Amy for organizing the workshop.
Thank you so much for the wonderful opportunity Japan Society!