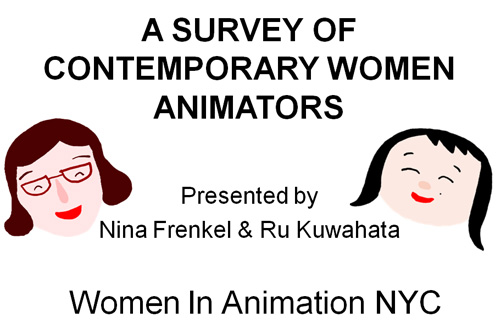 Nina Frenkel & Ru Kuwahata presented "A Survey of Comtenporary Women Animators" for Women In Animation meeting on 5/28.
This is a list of animators and their animations that we talked about.
***Independent Animators***
–Laura Heit
"Look For Me"

–Eun-Ha Paek
"Hunger Like A Wolf"

"Music Video for Alain Mpela's Vigilance tous Azimuts"
(You can watch under Eun-Ha's website)
–Martha Colburn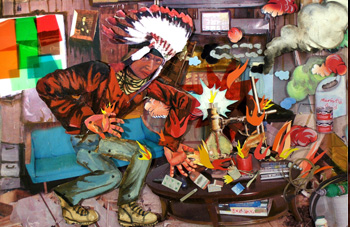 "Myth Labs"
(You can watch parts of her films and interesting "the making of" at her website.)
–Signe Baumane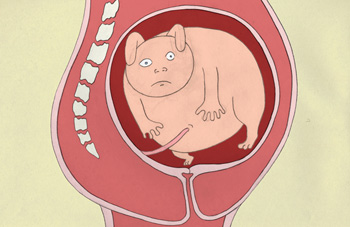 "Birth"
–Nina Paley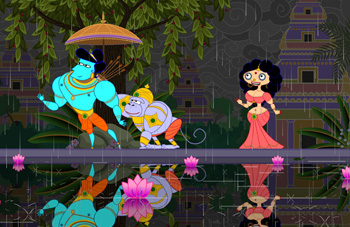 "Sita Sings The Blues"
***Commercial Animators***
–Norma Toraya aka Crankbunny
"Handmade" for Etsy

"Thought Bubble" for United Airlines
(you can watch under Crankbunny's website)
–Gaelle Denis
"City Paradise"

"Open Science" for Dupont

"Two Worlds" for United Airlines

–Johanne Ste-marie aka Fluorescent Hill
"Try Telling That To My Baby" for The Heavy Blinkers

"Myriad Harbour" for The New Pornographers

***Student Animation***
–Corrie Francis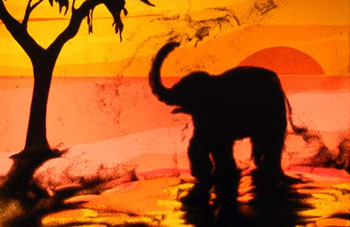 "Tracks"
"Conversing with Aotearoa"
-Nicole Mitchell
"Zoologic"

-Lizzie Marks
"A Few Of My Favorite Things"

You can also view other students animations done at Parsons Pre-College Academy Summer Intensive course. Enjoy and thank you for coming to our presentation!