I had a pleasure to be included as a consultant at Sesame Workshop's advisory meeting.
Of course I can't talk about anything that went in the meeting, but it was quite an experience!
The whole meeting started with a skit by President and Chief Executive Officer, Gary Knell, and Elmo (performer Kevin Clash).
I got to see the real elmo! The excitement was equivalent to meeting your favorite celebrity from your childhood. What an awesome performer Kevin Clash is.
On the second day, there was another performance. This time by Celso Machado from Canada/Brazil.
The spirit and energy he had was inspiring!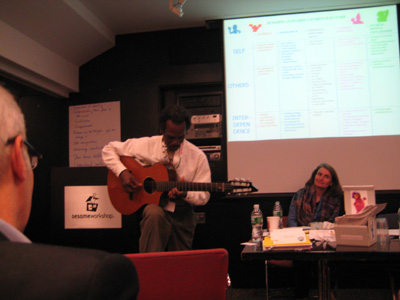 Of course there was a lot  of discussing, talking, and THINKING. It was only 2 days long but the amount of energy that went into the meeting was tremendous.
Thank you, thank you, thank you to Sesame Workshop. Also, they kept giving me a lot of souvenirs.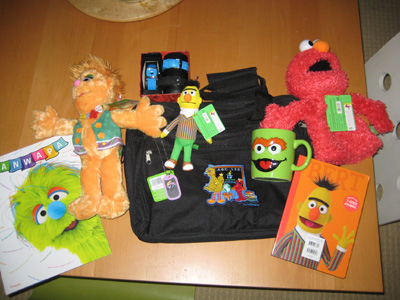 Pretty awesome. My favorite Sesame character when I was a little girl was Elmo, but I actually had a secret love for Oscar.
I found out that the new Sesame Street website has a "video" section where you can watch all the old clips from the classic Sesame Street.
Can't embed it but here is the link for my favorite clip of all time.
Crayola Factory!