Again, Lunafest invited me out to SF. This time it was held in Contra Costa College in San Pablo, 30min North East of San Francisco.
Since I didn't want to go to the West coast for only 24 hours like last time, I decided to go for 2 nights and brought Max with me.
1st day
Pouring rain! What a luck. We went straight to the Cartoon Art Museum on Mission Street.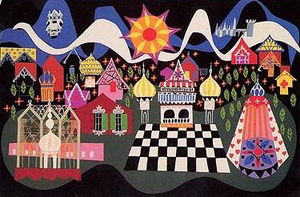 Mary Blair's exhibition was breath taking. She was an illustrator / concept artist for Disney Studios and worked on Alice in Wonderland, Peter pan, Cinderella, etc. Her versatility in styles, color choices and design sense are all something that all artists should study.
Disneyland's "It's a small world" attraction has been my favorite since I was a small girl, but it's recent that I learned Mary Blair designed the mosaic.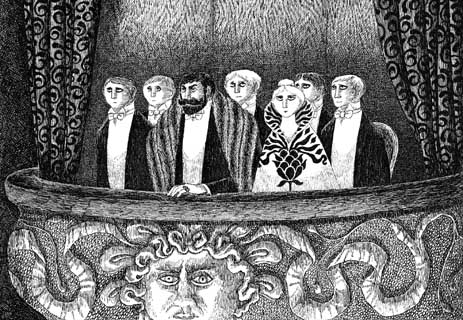 There was another exhibition of Edward Gorey's costume and set design for Broadway Production, "Dracula". Amazing.
His intense cross hatching and designs for posters are extremely memorable.
After 2 hours of looking at drawings, (for those who aren't interested in art, you can probably walk through the entire museum in 5 min) we met up with a friend of mine from high school, Leslie and went to J-town (Japan town).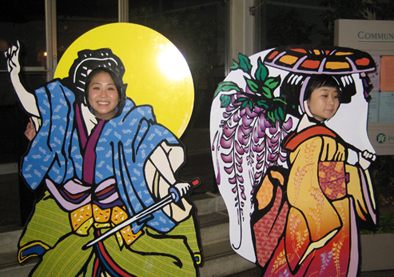 We had some Shabu shabu which is a Japanese food that everybody surrounds a huge pot with a boiling water. You dump veggies and thinly sliced beef which cooks in 3 seconds. You either dip the food into miso paste sauce or citrus soy sauce. YUMMY! Since it was all you can eat for $26, we ate more than we should have. Thank you Leslie for your hospitality.
2nd day
After Dim sum brunch with Leslie and Danice, we headed to
Exploratorium which is basically a science museum for kids where you can experiment various scientific toys.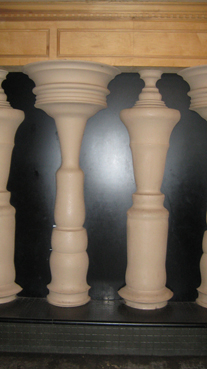 At the admission, we saw a poster of Paul Ekman,a psychologist and has been a pioneer in the study of emotions and facial expressions. We simply thought that we get to see his documentary in the mini theater within the museum. When we entered and sat down, we realized that it was Mr. Ekman's lecture. So LUCKY!
He went to Papua New Guinea to conduct a research to see if expressions are universal. He wanted to go to an island where no Western culture has been introduced yet. After a few years of speaking to the natives, he find out that expressions are universally recognizable.
Many animators including Pixar use Mr. Ekman's research to study facial and body expressions to animate. We are SO LUCKY.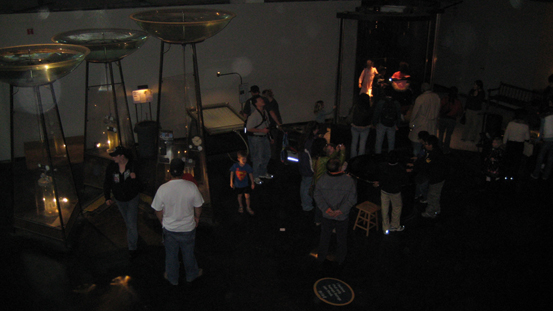 We only had a very little time to go around the museum but it was still fun. Since it was a Saturday, the place was packed with kids!
If you're ever in Sf, it's totally worth it. A lot of fun experiments and you'll gain a lot of scientific knowledge!
Then we headed to San Pablo for Lunafest. This festival is very inspiring. 100 percent of proceeds from LUNAFEST are donated to charity – 15 percent is donated to Breast Cancer Fund and the remaining 85 percent go to community nonprofit organizations. Most of women I met at the festival are survivors of breast cancer and they were strong and encouraging. The committee members welcomed us warmly and the event was very organized. It really is great to be part of a good cause and to be able to make people smile.
We also met Don Crum, one of the top animators from Pixar. The president of East Bay Lunafest committee, Ms. Joanne Steck-Bayat, lives in the same neighborhood with Mr. Crum. We had about 100 questions and it was refreshing and also inspiring to meet an animator who has pride and joy to his work. He said he would have gave us a tour of Pixar but unfortunately our flight was planned for Sunday morning.
That night, one of the committee member, Ms. Carol Seuferer's son, Matt took us out to a hidden and cool bar in Crocket, a little above Oakland, east of Bay Bridge. I played pool for the first time. I don't think I was THAT terrible…!?
We also got to eat in-and-out burger which I missed the most about California.
3rd day
After a short walk with another filmmaker, Sophie Ohara, we headed to Oakland airport. It's strange that after 5-6 hours of being trapped in the airplane, you're still in America. If you add 2 more hours, you can go to Japan from SF. Amazing.
Although we were gone for a few days, it was great to be home sweet home.
Thank you again to everybody at Lunafest for having me there.