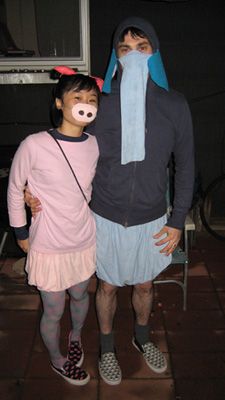 Happy Halloween!
We decided to become our own characters! For those who know what we've been working on, it's pretty obvious, isn't it? For those who don't know what we've been working on, this little pig and this little (?) elephant are two characters from a show that we've been developing. It's our little promotion for tiny inventions.
Considering that we only had an hour and a half to make these costumes, I think we did pretty well.
Of course there are a few things we need to touch up for Wed. Like I need to get white, gray or light blue stockings for Max since his hairy legs take "cuteness" away from the costume.
Thank you Erin and Kyle for a fun party!