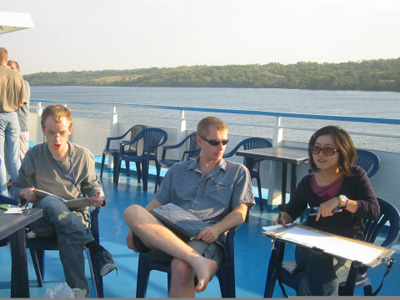 I met Tom Hicks in 2005 at Krok Animation Festival in Ukraine. It was a 2 weeks cruise filled with animators from all over the world. Most of them are older Ukrainian and Russian animators who offered crazy amount of vodka all day long. (Yuri Norstein was also on the cruise!) Since Tom and I were the youngest and graduated with Illustration degree, we became friends quickly. We drew together throughout the trip. (picture above from left, Tom, Merlin and me on the deck) Good memories. It's always fun to have a drawing buddy.
Tom visited NYC about 3 weeks ago to be part of a play called "Error of Their Ways" by Torben Betts at Here Theater in SOHO. It was very experimental in terms of audio and visual effects. There were 3 screens across the stage which played a significant roll in transition between scenes and backgrounds. Tom animated the videos and it was BEAUTIFUL! Since he was busy animating, I only got to see him for a night.
After the play, we went out for a little bit to catch up. Didn't seem like it's been 2 years! What a nice reunion we had. I forgot to pack my camera and since the battery died on my phone, I used Max's cell phone to take a picture of Tom and I. Well, I also didn't realize that Max's phone didn't have a feature to send the photo to other phones. So pictures of Tom are stuck in Max's phone forever. Sorry, Tom. I really wanted to post it, but instead, I will post my favorite animation he did.

Max and I are off to Ottawa Animation Festival in Canada. I have a plan to meet up with Johanne Ste-Marie from Fluorescent Hills whom I met at Krok 2004 in Russia. Hooray!!