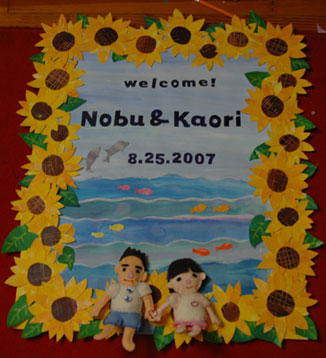 Do you know the story of The Elves and the Shoemaker? For those who don't know the story- once upon a time, there was an honest, hardworking but very poor couple who made shoes. When they went to bed, two elves finished making the shoes. The couple was so thankful they made tiny elf shoes and jackets. Since then, the couple always had luck in their lives. The end.
I sometimes wish really hard that my stuffed animals will finish my work at night. So when I wake up in the morning, I'll have finished work instead of figuring out how I'll ever finish anything.
Max and I have been workin really hard these days on several projects, including two pitches and a welcome board for my friend's wedding that's coming up. We're also working on another pitch which is still in progress. (will be up on the web soon!)
The welcome board took a bit longer than I thought, but Max and I made with all our love. My friend, Kaori and I have a very long friendship. We met in kindergarten and re-met in high school. Although I attended Japanese kindergarten for 3 months and Japanese high school for 10 months. (Both times I ended up moving to the U.S) We bonded really well. The only reason I remember Kaori in kindergarten is that she gave me a yellow lemon shaped super ball, which I kept until middle school. She also stuck a small smelly beads in her nose and had to go to an emergency room to remove it. Good old memories. Funny thing is that she is a kindergarten teacher now. I wish her the best of happiness with her husband !!!